Trial Purpose:
A trial was conducted at an Iowa hog production facility to determine the effectiveness of PEAK Pit Maxx's proprietary bacterial cultures in reducing odors caused by ammonia and hydrogen sulfide. The test was performed in two identical barns. One barn was treated with PEAK Pit Maxx's scientifically selected bacterial cultures, while the other barn was left untreated. Each barn contained 1,000 hogs with a 40'x200'x10' waste pit under the barn (no lagoons). The test commenced immediately following the annual pumping of the waste pits.
Dosing:
The test site was treated weekly with 25 pounds of PEAK Pit Maxx at 4 Billion CFU's per gram of ready to use product.
Testing:
Ammonia and hydrogen sulfide levels were tested after six weeks of application with a Sensidyne tube collector. The tube collector was suspended 1.5 feet below the floor for 1.5 hours.
Results:
As Figure 2 shows, the ammonia and hydrogen sulfide levels were reduced by 90% in the barn treated for 6 weeks with PEAK Pit Maxx.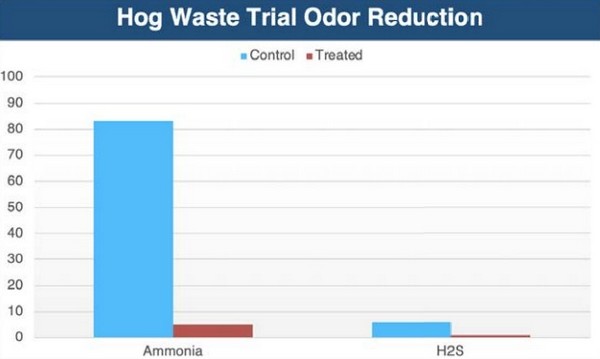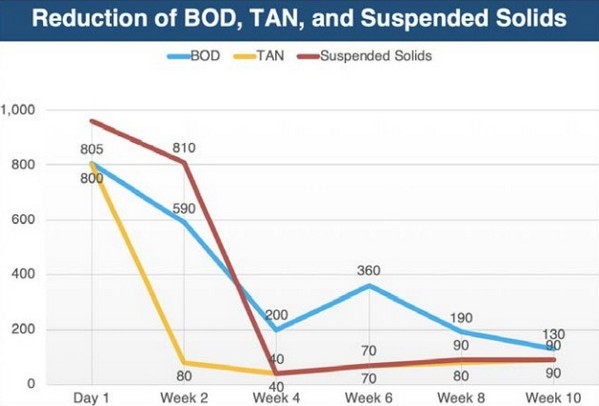 Available in packs of 4 – 4 oz. or 1 – 16 oz. pack, water soluble packs, 50 or 100 lb. poly drums.